Training of teachers in higher education imperative for optional learning outcomes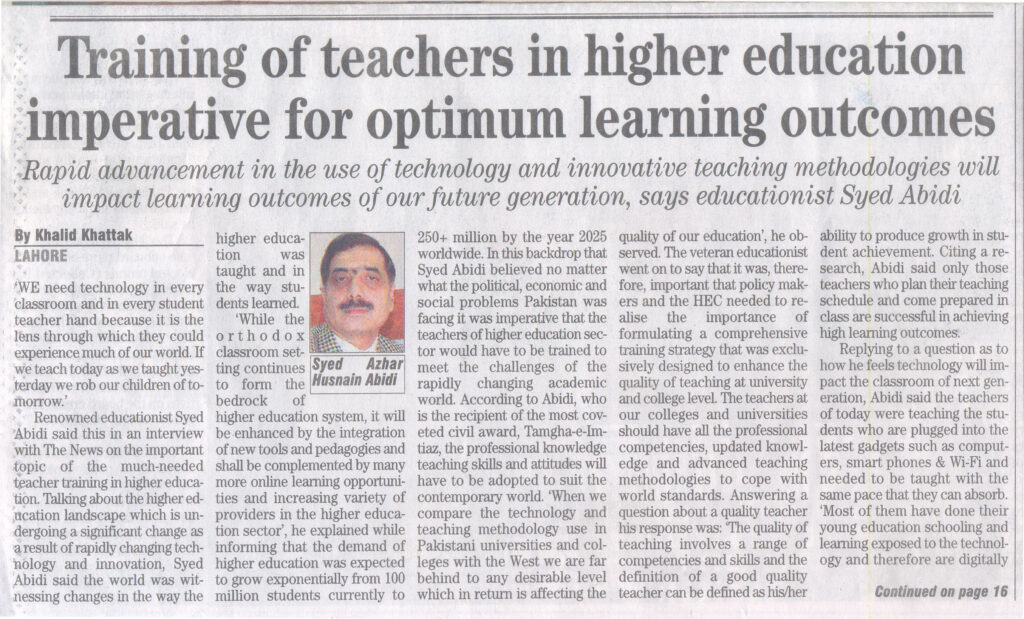 Rapid advancement in use of technology and innovative teaching methodologies will impact learning outcomes of our future generation, says educationist Syed Abidi
lahore
'We need technology in every classroom and in every student teacher hand because it is the lens through which they could experience much of our world. If we teach today as we taught yesterday we rob our children of tomorrow.'
Renowned educationist Syed Abidi said this in an interview with The News on the important topic of the much-needed teacher training in higher education. Talking about the higher education landscape which is undergoing a significant change as a result of rapidly changing technology and innovation, Syed Abidi said the world was witnessing changes in the way the higher education was taught and in the way students learned.
'While the orthodox classroom setting continues to form the bedrock of higher education system, it will be enhanced by the integration of new tools and pedagogies and shall be complemented by many more online learning opportunities and increasing variety of providers in the higher education sector', he explained while informing that the demand of higher education was expected to grow exponentially from 100 million students currently to 250+ million by the year 2025 worldwide. In this backdrop that Syed Abidi believed no matter what the political, economic and social problems Pakistan was facing it was imperative that the teachers of higher education sector would have to be trained to meet the challenges of the rapidly changing academic world. According to Abidi, who is the recipient of the most coveted civil award, Tamgha-e-Imtiaz, the professional knowledge teaching skills and attitudes will have to be adopted to suit the contemporary world. 'When we compare the technology and teaching methodology use in Pakistani universities and colleges with the West we are far behind to any desirable level which in return is affecting the quality of our education', he observed. The veteran educationist went on to say that it was, therefore, important that policy makers and the HEC needed to realise the
importance of formulating a comprehensive training strategy that was exclusively designed to enhance the quality of teaching at university and college level. The teachers at our colleges and universities should have all the professional competencies, updated knowledge and advanced teaching methodologies to cope with world standards. Answering a question about a quality teacher his response was: 'The quality of teaching involves a range of competencies and skills and the definition of a good quality teacher can be defined as his/her ability to produce growth in student achievement. Citing a research, Abidi said only those teachers who plan their teaching schedule and come prepared in class are successful in achieving high learning outcomes.
Replying to a question as to how he feels technology will impact the classroom of next generation, Abidi said the teachers of today were teaching the students who are plugged into the latest gadgets such as computers, smart phones & Wi-Fi and needed to be taught with the same pace that they can absorb. 'Most of them have done their young education schooling and learning exposed to the technology and therefore are digitally literate majority of them feel comfortable learning with technological aid,' he added.
Therefore, the higher education teachers now need to go beyond textbooks teaching. The training of teachers should be focused on achieving in depth knowledge of their field, ability to use technology effectively and engaging the students in learning experiences through quiz, classrooms assignments and mock exams. Instead of discouraging teachers need to encourage their students by improving their interest. 'The students should not learn just for exams rather they should be offered comprehensive learning environment', Abidi suggested.
Syed Abidi, who represented Pakistan in over 100 national and international seminars, moots and fora, empathised on the need of training teachers in using technology. He believed that teachers who did not use technology would be replaced by those who do.
Discussing the quality of teaching he said that teacher training content should be designed which allows students to think critically, communicate, collaborate and make decisions. In this regard, he talked about various innovative teaching approaches, including Inquiry Based Learning (IBL). In this method, the primary role of a teacher is only as a facilitator providing guidance and support through the learning process. 'It is also known as Student Centered Approach', Abidi said, adding another new method of teaching and learning was Cooperative Learning through which classroom was managed with a strong sense of community and group work. This fosters student's academic and social growth and includes teaching known as 'Think-Pair-Share' and 'Reciprocal Teaching'.
According to Abidi, the other important aspect of improving teaching quality at college and university level would be to allow the faculty members to participate in national and international seminars and conferences within the domain of their respective subjects through the government's support. 'This will help them keep abreast of the developments in their specialised areas and transmit latest knowledge to their students in classrooms', he added.
Abidi, who has more than 20 years of experience as provider of education counselling services, also talked about the newly-founded Pakistan Institute of Career Counselling (PICC), saying the institute was providing several much courses and training programmes that could help higher sector institutions in improving their teaching qualities.