Negative impact of global terrorism on student mobility from Pakistan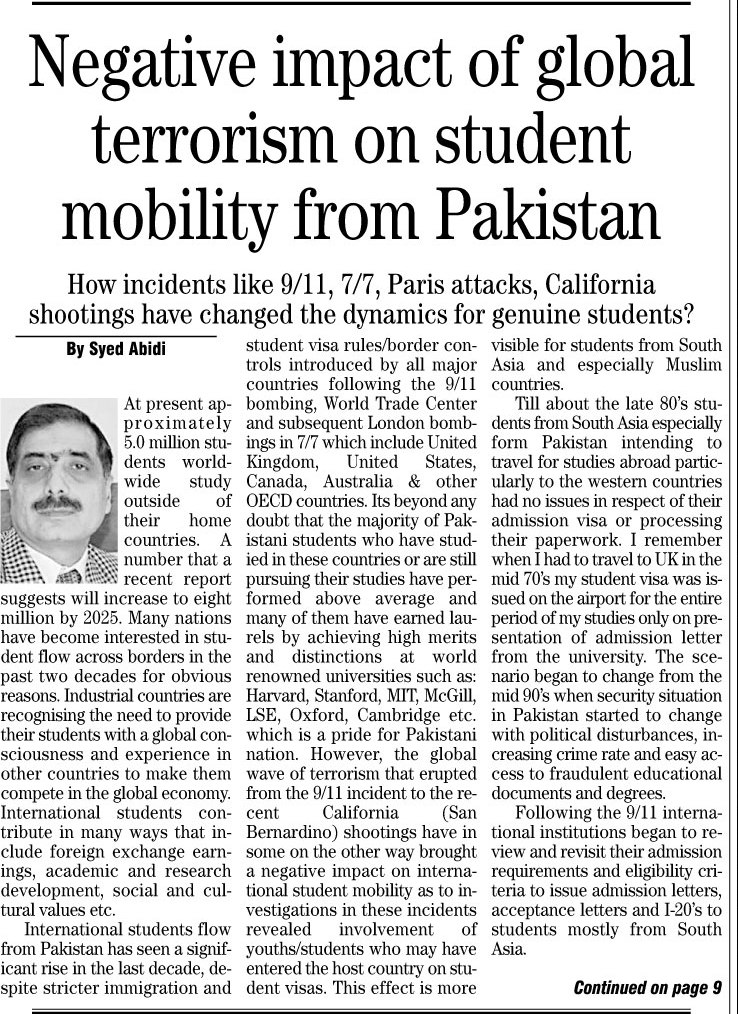 How incidents like 9/11, 7/7, Paris attacks and California
shootings have changed the dynamics for genuine students
At present approximately 5.0 million students worldwide study outside of their home countries. A number that a recent report suggests will increase to eight million by 2025. Many nations have become interested in student flow across borders in the past two decades for obvious reasons. Industrial countries are recognising the need to provide their students with a global consciousness and experience in other countries to make them compete in the global economy. International students contribute in many ways that include foreign exchange earnings, academic and research development, social and cultural values etc.
International students flow from Pakistan has seen a significant rise in the last decade, despite stricter immigration and student visa rules/border controls introduced by all major countries following the 9/11 bombing, World Trade Center and subsequent London bombings in 7/7 which include United Kingdom, United States, Canada, Australia & other OECD countries. Its beyond any doubt that the majority of Pakistani students who have studied in these countries or are still pursuing their studies have performed above average and many of them have earned laurels by achieving high merits and distinctions at world renowned universities such as: Harvard, Stanford, MIT, McGill, LSE, Oxford, Cambridge etc. which is a pride for Pakistani nation. However, the global wave of terrorism that erupted from the 9/11 incident to the recent California (San Bernardino) shootings have in some on the other way brought a negative impact on international student mobility as to investigations in these incidents revealed involvement of youths/students who may have entered the host country on student visas. This effect is more visible for students from South Asia and especially Muslim countries.
Till about the late 80's students from South Asia especially form Pakistan intending to travel for studies abroad particularly to the western countries had no issues in respect of their admission visa or processing their paperwork. I remember when I had to travel to UK in the mid 70's my student visa was issued on the airport for the entire period of my studies only on presentation of admission letter from the university. The scenario began to change from the mid 90's when security situation in Pakistan started to change with political disturbances, increasing crime rate and easy access to fraudulent educational documents and degrees.
Following the 9/11 international institutions began to review and revisit their admission requirements and eligibility criteria to issue admission letters, acceptance letters and I-20's to students mostly from South Asia. Major countries, including UK, USA, Australia and Canada have implemented new student visa regulations. This has now become a practice every time an act of terrorism is committed in the West the heinous is somehow shifted upon students particularly Muslim students and further restrictions, barriers and more stricter requirements are imposed on student visas. While, no Pakistani student (on Pakistani passport) has ever been accused of these terrorist activities, blame game continued whenever a terrorism act took place in the West pointing towards the origin of the students. It is time for us to start devising and introducing measures that monitor Pakistani students studying overseas through obligatory registration process at our respective embassies or missions. As far as I am aware there is no current requirement for Pakistani students to register to their embassies or missions once he or she arrives in the host country and registers with a university. A comprehensive system for those who travel overseas on work visa do need such a permission or registration under Bureau of Emigration and Overseas Employment (the protector of emigrant), the objective of which is to control and regulate immigration and look after the welfare of emigrants that proceed overseas for employment.
It is also a high time for the government and the ministry of interior to consider regulating the education consultants/agents ensuring that they follow the international norms and ethics in their businesses and do not indulge in fraudulent and illegal activities or provide assistance to non-genuine students to enter any country for the purpose of studies. If such a system is in place for students this will be the first phase in creating a database about all our students studying overseas and we shall immediately be able to respond to any allegations levelled against Pakistani students studying in the host country. Meanwhile, I shall keep on encouraging our students to explore study opportunities abroad as their right and why not we are known to be among best performing students throughout the world. However, they should now carefully examine their objectives when choosing a destination, selecting a university and even a specialisation.
It is also important to check the changing visa rules and regulations, making sure that they understand their responsibilities when becoming students in a particular host country; I would also like to add that students should look at new destinations emerging for them in other friendly countries with reputable universities, low tuition fee and economical and affordable living conditions that may offer more comfortable environment to students; these include China, Turkey, Malaysia and the central Asian states.
The uproar following the recent California shooting involving a Pakistani couple has raised serious concerns and once again the US politicians have asked the Obama government to revisit the visa rules that would involve all categories, including the student visas. The statements made by several leaders in the US, including Donald Trump against Muslims have been widely condemned and I would like to appreciate the strong rebuttal from the presidential candidate "Hilary Clinton" categorically rejecting that the involvement of any country or region in this act of terrorism. According to her, terrorists do not have any representation neither from the country nor from a religion. This incident should not be seen as impediment for students going to US, especially when the two countries are looking at developing new corridors for student and academic collaboration. Even before the 9/11, there had been calls to tighten the screening and monitoring of America's over 500,000 international students but their positive benefits to the US had never been seriously questioned. As the US government responded speedily by putting in place more rigorous checks and somewhat lengthier processes to carefully vet and monitor all potential foreign students. The number of such students initially dropped slightly. There were calls for "pause" in the approval of incoming students but wisdom prevailed and international students continued to be welcomed at US universities. If the governors of the United States back then had closed their academic doors to international students because of a misplace fear that all international students were potential terrorists than the very fabric of US higher education would have been radically altered from the globally competitive world-class higher education system that we know of today. To conclude it is time for us to evolve a comprehensive monitoring system for students travelling overseas for studies which would help our authorities to easily locate them and provide necessary information to the authorities concerned to protect our students studying in a particular country through our respective missions abroad.
(Syed Azhar Husnain Abidi is a renowned educationist in Pakistan, with more than 20 years of experience as provider of education counselling services. He has represented Pakistan in over 100 national and international seminars, conferences and fora. He is the recipient of the most coveted civil award Tamgha-e-Imtiaz).