Italian university welcomes students from Pakistan, says rector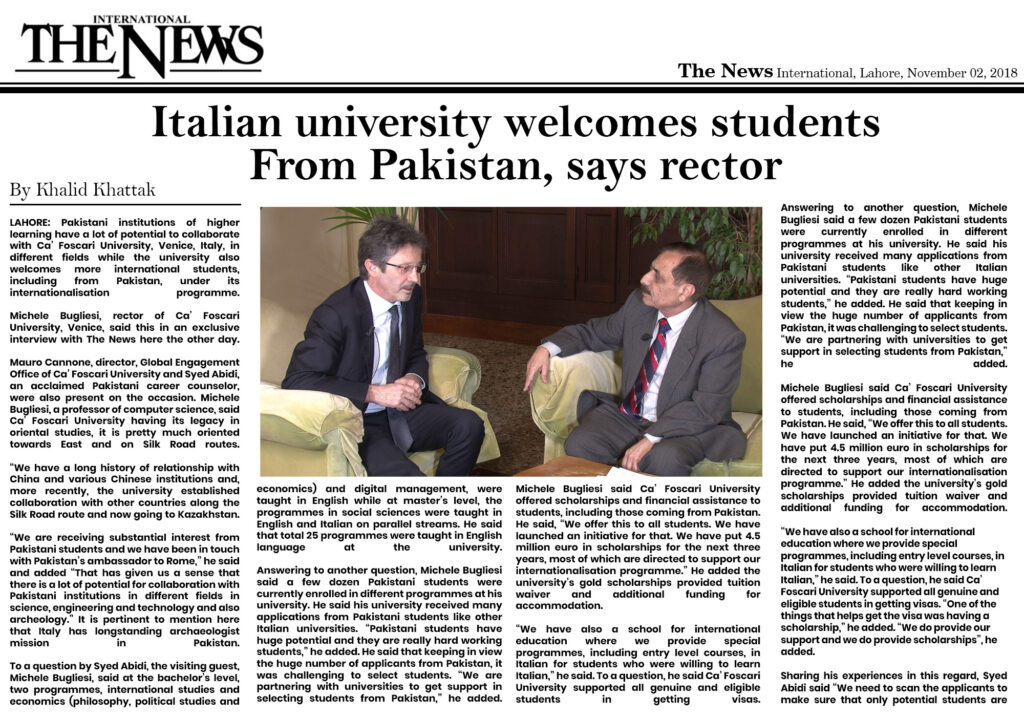 LAHORE: Pakistani institutions of higher learning have a lot of potential to collaborate with Ca' Foscari University, Venice, Italy, in different fields while the university also welcomes more international students, including from Pakistan, under its internationalisation programme.
Michele Bugliesi, rector of Ca' Foscari University, Venice, said this in an exclusive interview with The News here the other day.
Mauro Cannone, director, Global Engagement Office of Ca' Foscari University and Syed Abidi, an acclaimed Pakistani career counselor, were also present on the occasion. Michele Bugliesi, a professor of computer science, said Ca' Foscari University having its legacy in oriental studies, it is pretty much oriented towards East and on Silk Road routes.
"We have a long history of relationship with China and various Chinese institutions and, more recently, the university established collaboration with other countries along the Silk Road route and now going to Kazakhstan.
"We are receiving substantial interest from Pakistani students and we have been in touch with Pakistan's ambassador to Rome," he said and added "That has given us a sense that there is a lot of potential for collaboration with Pakistani institutions in different fields in science, engineering and technology and also archeology." It is pertinent to mention here that Italy has longstanding archaeologist mission in Pakistan.
To a question by Syed Abidi, the visiting guest, Michele Bugliesi, said at the bachelor's level, two programmes, international studies and economics (philosophy, political studies and economics) and digital management, were taught in English while at master's level, the programmes in social sciences were taught in English and Italian on parallel streams. He said that total 25 programmes were taught in English language at the university.
Answering to another question, Michele Bugliesi said a few dozen Pakistani students were currently enrolled in different programmes at his university. He said his university received many applications from Pakistani students like other Italian universities. "Pakistani students have huge potential and they are really hard working students," he added. He said that keeping in view the huge number of applicants from Pakistan, it was challenging to select students. "We are partnering with universities to get support in selecting students from Pakistan," he added.
Michele Bugliesi said Ca' Foscari University offered scholarships and financial assistance to students, including those coming from Pakistan. He said, "We offer this to all students. We have launched an initiative for that. We have put 4.5 million euro in scholarships for the next three years, most of which are directed to support our internationalisation programme." He added the university's gold scholarships provided tuition waiver and additional funding for accommodation.
"We have also a school for international education where we provide special programmes, including entry level courses, in Italian for students who were willing to learn Italian," he said. To a question, he said Ca' Foscari University supported all genuine and eligible students in getting visas. "One of the things that helps get the visa was having a scholarship," he added. "We do provide our support and we do provide scholarships", he added.
Sharing his experiences in this regard, Syed Abidi said "We need to scan the applicants to make sure that only potential students are selected." He added, "I think embassies have no issues if an applicant is a genuine student, has a background and the right qualification and his/her intentions to study at a particular university are right.
If that is the case, I think students get visas for most of the emerging destinations." According to him, the emerging destinations in Europe for student mobility from Pakistan are Italy, Germany and Sweden.
It is also pertinent to mention here that during his stay in Pakistan, Michele Bugliesi and other members of his delegation met the officials of the Higher Education Commission (HEC), Islamabad and Comsats and they also visited Kinnaird College, Lahore.